Top 5 Homemade Ganpati Decoration Ideas With Flowers 2019
Top 10 Homemade Ganpati Decoration Ideas With Flowers
Homemade Ganpati Decoration Ideas: This year Ganesh Chaturthi is on 2nd September 2019. Ganeshotsav is one of the most celebrated festival in Maharashtra and India. Now time has came to welcome Bappa. You probably preparing and decorating your home for Ganeshotsav. Here we have Top 10 Homemade Ganpati Decoration Ideas With flowers for you.
We eagerly waiting for Ganeshotsav. It is a favorite festival of many of us.
Ganpati Decoration is one of the main parts of this festival. Everyone wants their Ganpati Bappa decoration to look beautiful.
There are many Homemade Ganpati Decoration Ideas which you can use to decorate Makhar and Ganpati Bappa Background. Below are some ideas to Decorate Ganpati Background with Images.
Top 5 Homemade Ganpati Decoration Ideas with Flowers
1.
As you can see the image, this is a very beautiful design. Though it will require some additional material for design but you can make this as a Ganpati Decoration.
You will need white and yellow flowers. And you have to make that Makhar as shown in picture.
2.
This is another good and simple Homemade Ganpati Decoration Idea with Flowers.
Here you need different colors of the flower. Mainly lavender and white. The decoration is quit simple. You just have to make sitting and background design as in the photo. Then place beautiful flowers around Bappa.
You may use an artificial flower.
3.
This is the simplest design. If you want cheap decoration then this is the best decoration idea. Use and place bricks as shown in the image. And then place candles. You can use flowers over the brick to make it more attractive.
4.
This beautiful design is the most common and made in many homes. With Flowers of yellow and red color, this Homemade Ganpati Decoration Idea with Flowers looks amazing.
For Ganpati Bappa Seating, you can make or use a different design.
5.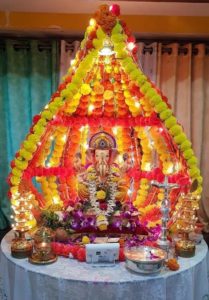 This the simple and very affordable Ganpati Decoration Idea with Flowers. Many of you may not have very big space in your home.
But This design shows in very less space also you can make very very beautiful Ganpati Decoration.
Ganpati Bappa decoration is made on only a small round table.
Anyone can make this decoration at home. You just have to make mala of flowers and arrange as shown in the picture.
So these are Top 5 Homemade Ganpati Decoration Ideas with Flowers. Some are costly, some are very affordable. If you want more designs then please comment below.
Note: All images taken from pinterest.com and credit goes to respected owner.
Also Read: