PlayStation New Trophy System Revealed – Complete Information
PlayStation New Trophy System is revealed before the release of the upcoming PS5. The Trophy System was introduced for the first time during the time of PS3. All the gamers are now excited about the new trophy system. They want to know the changes made related to the trophies.
Here, you will get the details about the recent PlayStation New Trophy System that will be made available through the upcoming update. Let's explore everything about this new trophy system without any delay.
PlayStation New Trophy System Details
This PlayStation New Trophy System will bring a lot of changes like new level calculations, new trophy levels, new icons, and much more. All the details are given below one by one.
New Trophy Level System
As we all know that the current trophy system is 1-100. But now, it is changed and the trophy levels are increased. The new trophy system has levels 1-999. Do not worry that you will become behind in the trophy level due to the new system. Your trophy level will be automatically adjusted according to the new system. According to Toshimasa Aoki, Director, Product Management, SIE of PlayStation, if your current trophy level is 12, then your new trophy level will be around 200.
Even the level calculation system is changed. Now, your levels will increase faster. Due to more levels, the Platinum trophy is going to be more valuable.
The logo of all the trophies is also changed. According to the new system, you will get Bronze trophies from level 1 to 299. Silver trophy will be awarded for trophy levels from 300 to 599. You will get Gold trophies from level 600 to 998. The most valuable Platinum trophy will be aswered to you on reaching the level 999.
You can also read: Virtua Fighter x Project
Even the new logo will have subtle distinction. It will help you in knowing how close your are going to the next level. Bronze, Silver, and Gold trophies have got tree different logo. You can check them in the image attached below.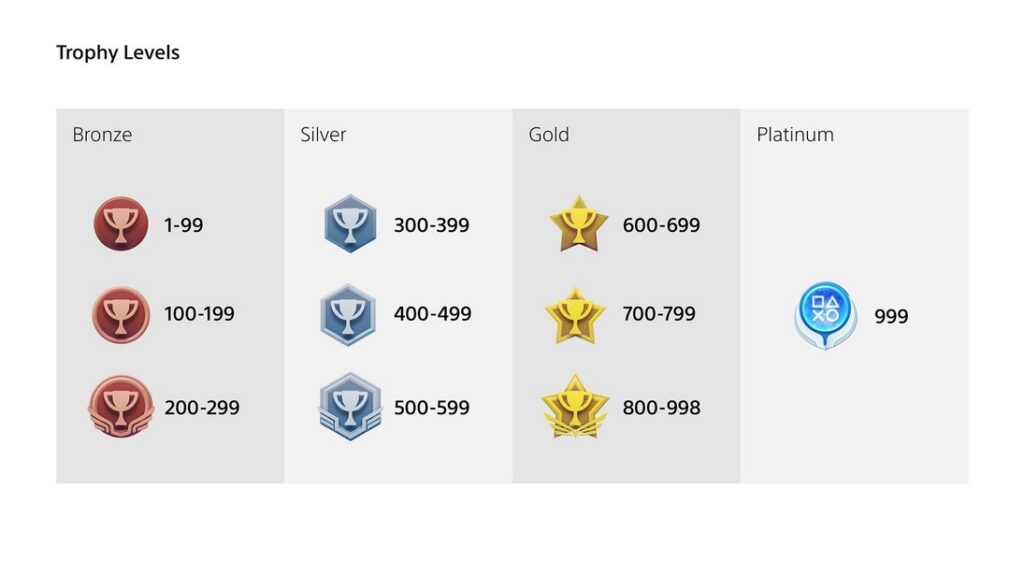 Even all your trophies will be made available in your PS5 that are earned by you in PS4. Due to this, you will not have to earn the trophies again on the new gaming console. It is just same as previous transition. You will be able to see the PlayStation new trophy system implemented in the game soon. The location of your new trophies will be same as the current trophy.
You can also read: Xbox Series V rumored to be completely digital
Now, you must be thinking when this new trophy system will be implemented on your PS4. You will not have to wait too much as it is going to be implemented automatically on the system through the update. This update will release tonight in North America and tomorrow in Europe. So, you will be able to experience this PlayStation New Trophy System soon on your PS4. It will be also seen on the upcoming PS5.
The update size is unknown to us. It will be revealed when this update will be released. So, wait for it.
We are eagerly waiting to see this new trophy system on our PS4.Are you excited about the major change made in the trophy system of PlayStation? Do not forget to share your opinion in the comment section below. We would love to hear your opinion.
You can also read: Genshin Impact Redeem Code
Conclusion: PlayStation New Trophy System
In conclusion, we hope that you have got the complete details about the PlayStation New Trophy System. So, become ready to experience the latest trophy system now. If you have any questions or queries related to this new system, you can ask us in the comment section. We are here to help you in solving all your queries and questions.
You can also read: All PS5 Console Games Announced yet