How to Set Up Ubersuggest Chrome Extension
Almost every digital marketer knows about ubersuggest SEO tool. It is one of the best tools when it comes to analyzing your website or competitors' website. In this article we are going to learn, How to Set Up Ubersuggest Chrome Extension. Yes, you heard it right. Ubersuggest is now available as a chrome extension. Before we see step by step guide on How to set up ubersuggest extension lets know more about it.
Why you should use Ubersuggest Chrome extension
Those who are familiar with the SEO industry know that there are plenty of SEO tools and extensions available in the market, then why you should use this extension. Ubersuggest is SEO tool owned by one of the top digital marketer Neil Patel. This one fact is enough to add authenticity to this tool. But there are more reasons to add this extension to your chrome.
Ubersuggest extension is free to use, It provides all the basic features of seo tool for zero cost.
It gives wide range of data, which will b useful for you to improve your google search ranking.
it provides all keyword data with its, search volume, CPC an difficulty level.
It provides all related keywords, which is very useful in keyword research.
It shows backlinks data of search results.
It gives competitive analysis, For more info you can read how to use ubersuggest chrome extension.
How to Set Up Ubersuggest Chrome Extension
#1. Go to google and type "Uber Chrome Extension".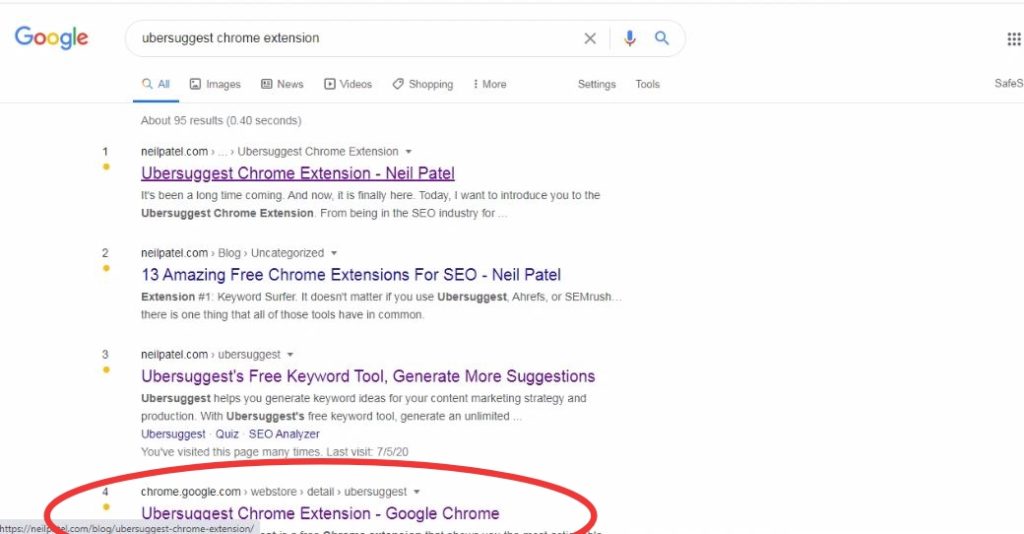 #2. From search results click on the direct link for Ubersuggest Chrome Extension, or you can directly click here.
#3. Once you land on the extension page, click on add to the chrome button.
#4. Once you click on add to the chrome button, the extension will get added to the extension bar and you can see its icon there.
#5. Congratulations!! You have successfully set up the Ubersuggest Chrome Extension.
Now go to google and search any keyword, you will get all details about that keyword, such as keyword volume, CPC, Related Keywords, Competition, etc.
If you have any query ask in Comment below.
Check Also: